I am interested in how the web of interconnection strengthens us,
inside and out…
Meet Ashby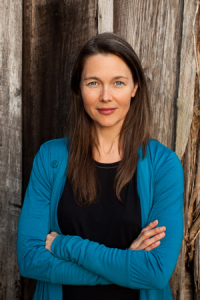 Ashby Underwood maintains a long-standing holistic bodywork practice which focuses on structural health and myofascial integrity. As a beloved yoga teacher and mentor, she incorporates nutrient-rich and real foods education in her seasonal yoga workshops and retreats at Yoga Highlands studio in Highlands, NC. She is creator and editor of the grassroots newspaper Body and Land Journal, and the author of the forthcoming modern yoga nutrition course Grass Fed Yogis. Ashby lives with her husband and their two sons on the upper Chattooga River in Highlands, NC.
About Grass Fed Yogis
We are in a time of huge shift. Our food production and distribution processes have led to mass depletion of soil nutrients and human health, and yet this very issue has inspired a healing movement in regards to food and eating. The journey from depletion to fullness unfolds through an individual's sincere self-study, amplified by the empowerment of investing in one's own health through sourcing real food. It creates openings on both the internal and external landscapes. What feeds you is different from what feeds me.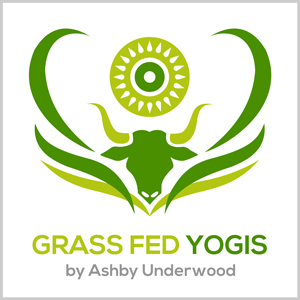 So many of us are looking for the best diet information and practices with the best intentions, but what is right for one person is not necessary right for the next. It takes personal research to know what strengthens our own bones, nervous system, soft tissue, and genetics. This kind of inquiry requires listening to our bodies rather than simply following the next popular fad diet.
For many years I ate a an improperly prepared vegetarian diet. I thought I was being healthy. But I was actually eating a diet filled with meat and dairy substitutes, all of which were processed. I was depleting my body without knowing it. At the same time, I began working with my family on healing their 500-acre farm near the Blue Ridge Parkway in Virginia through re-wilding the herd. This shifted my awareness of where food actually comes from. Food as medicine became my path.
In fifteen years I have been fortunate to work with all ages. I use my hands as a Rolf Practitioner in Structural Integration which lifts posture along with therapeutic yoga. I help clients integrate the basics of a real foods-centered lifestyle, and empower clients to holistically change imbalances such as excessive inflammation, gut dysbiosis, and regressed learning in children. I have witnessed that we truly can heal our people by home and hearth.
Grass Fed Yogis is an organization and teaching platform which promotes whole body, mind, breath, and small farm sustainability. People who find their way to the yoga mat, often find their way to better health, but not without a positive diet change. Restoring health through food is found as a method in all natural healing prescriptives. Grass Fed Yogis' contribution is this: When we pay farmers to restore the soil in a more "traditional way," we support human health and happiness. Feed the soil, which feeds the body, which feeds the spirit.